Blancpain Fifty Fathoms, ex-Polish Navy, circa 1960s

The original Fifty Fathoms (that is, predating J-C Biver's resurrection of Blancpain in the 1980s) is an intriguing and complex watch. Its history is well-chronicled (beautifully and thoroughly at Dr. Strong's Fifty Fathoms website), but the involvement of several companies (Blancpain, Lip, Tornek Rayville, A. Schild, ETA), the variety of case sizes (35mm, 37mm, 38mm, 40mm and 41mm) and movements (AS 1361, 1700, 1902, 1903, 2063, Lip R23 and ETA 2873), their use by several countries' agencies (France, Germany, Poland, USA) as well as civilian editions, and literally dozens of different legitimate hands, dial and bezel combinations over some 27 years of production...complicates the story. Which is to say that a given watch can hardly be expected to embody this heritage (one posted compilation shows 98! variations), rather it must serve as a mere sampling, a shadow of the entire enterprise.

---

As told at the links above, the FF was the brainchild of 2 French Naval officers charged with setting up an elite underwater unit. They determined the requirements, including watertight operation at the depth of 91 meters, the accepted maximum for untethered diving...which happens to be a pinch over fifty (6-foot) fathoms. Evidently they approached the powerful French watch firm, Lip with this project but were rejected, and so moved on to Blancpain who designed the watch (which was subsequently and somewhat ironically cobranded and distributed by Lip!). Over the decades the construction of the FF evolved and varied, sometimes considerably, to meet the requirements of each distinct customer. Like many other legendary models, there is no single representative Fifty Fathoms, any more than there is one Constellation, Calatrava or Reverso.

The present watch is from about the midpoint in the FF's history, and was requisitioned by the Polish Navy. It is constructed with the large (41mm) polished case, has a monochrome 60-markings bezel with luminous triangle at the top and uses an A. Schild 2063 automatic movement, with date. To me it is a very handsome and contemporary-looking watch:
Click the pictures for even larger!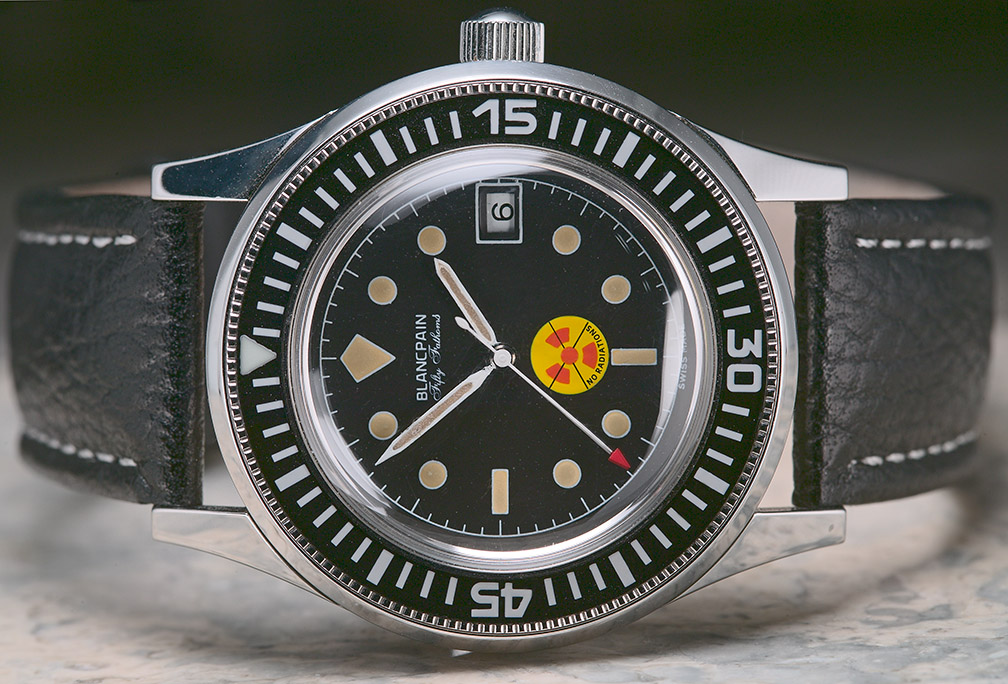 The "NO RADIATIONS" symbol designates that the luminous features will not interfere in work areas which are monitored for radiation.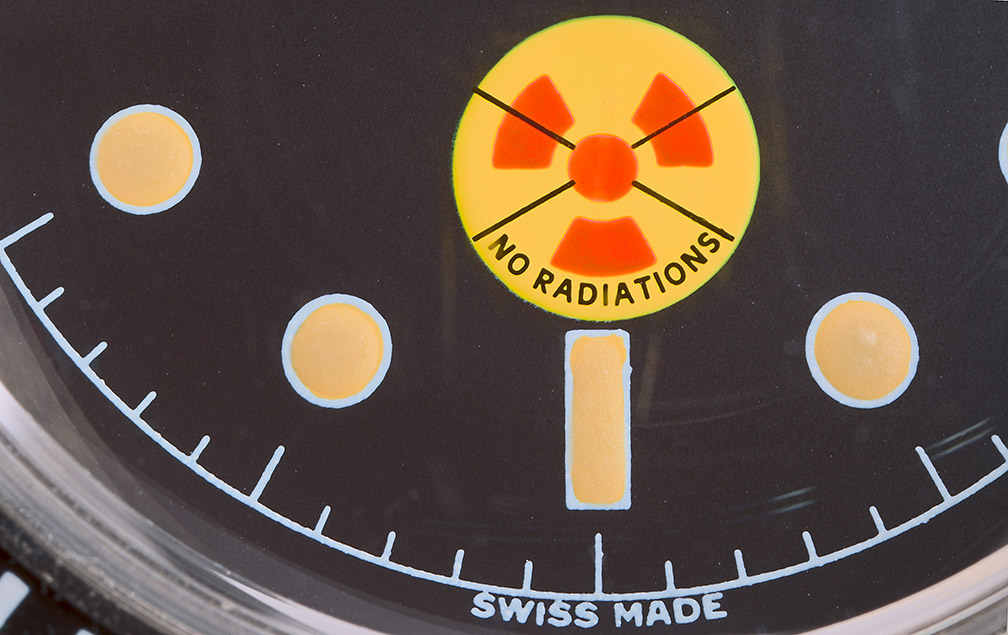 Military markings, appropriately heavy-duty construction and screwed-in crown: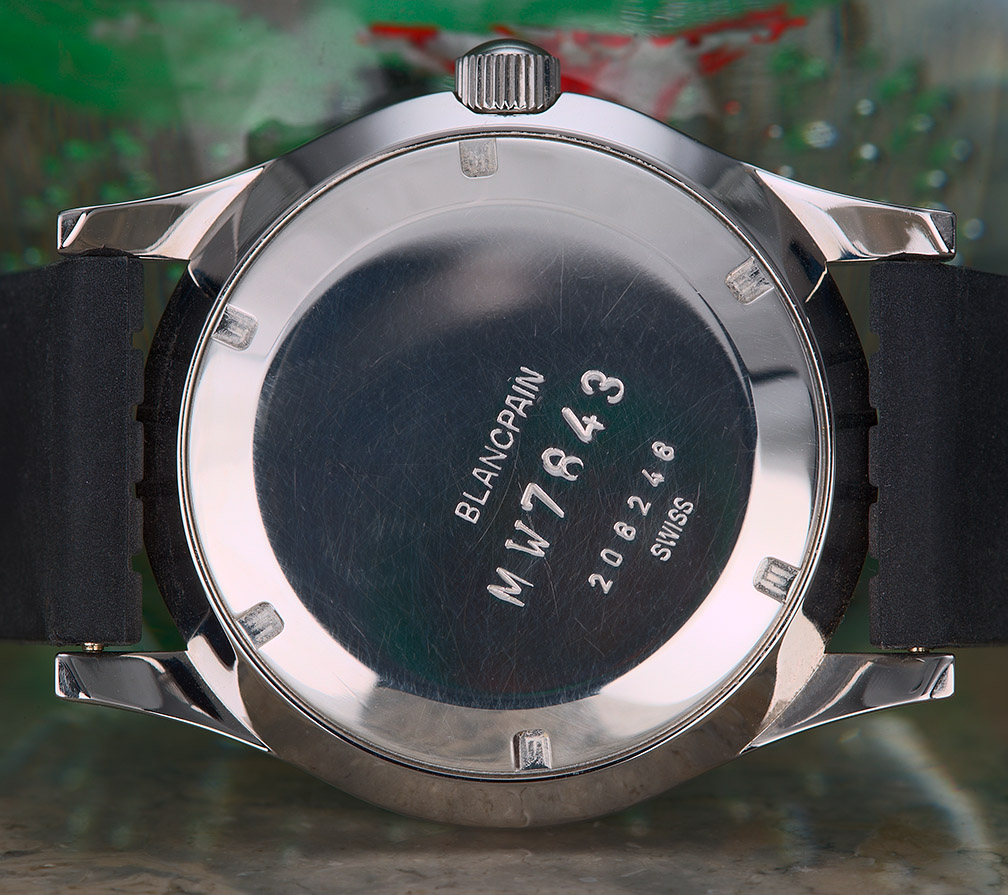 The AS 2063 automatic is certainly pedestrian in appearance, but robust, reliable and serviceable: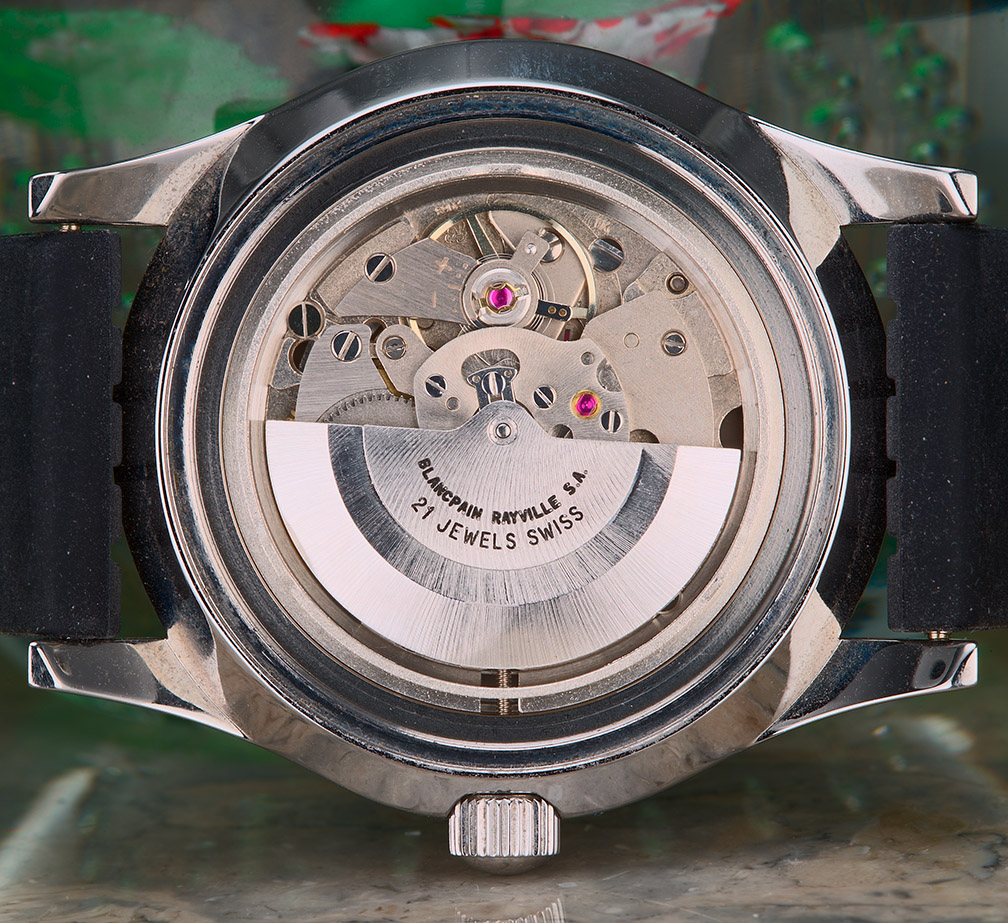 This profile shows the very thick, domed crystal and unscrewed crown, and highlights the beautiful bezel!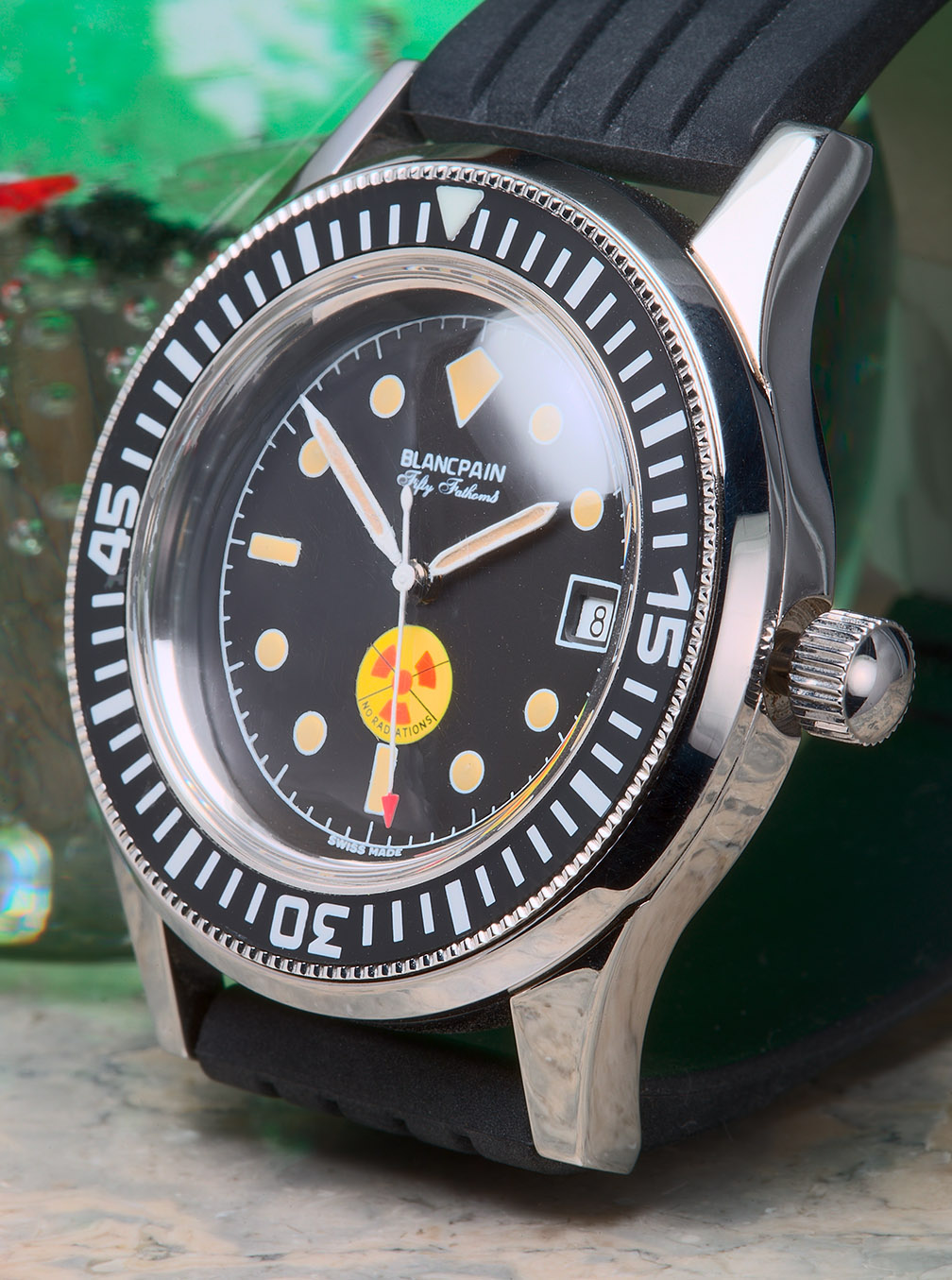 Non-radioactive glow: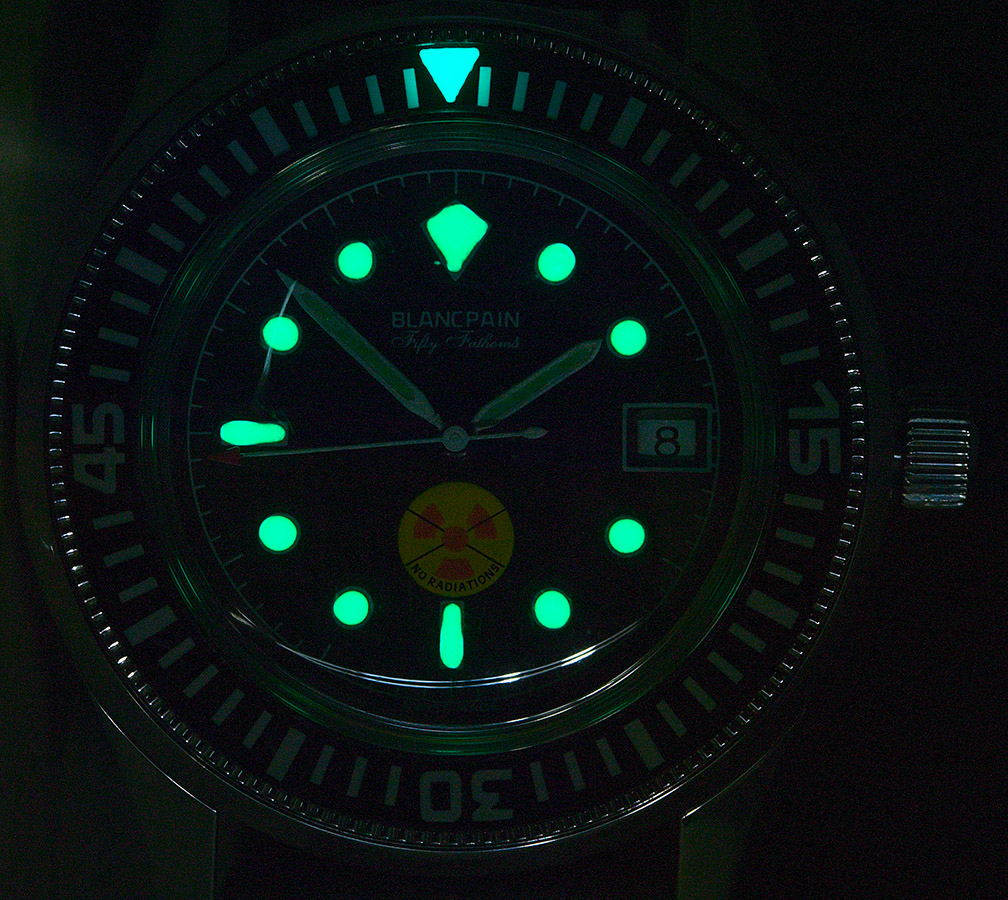 Simple, rugged features: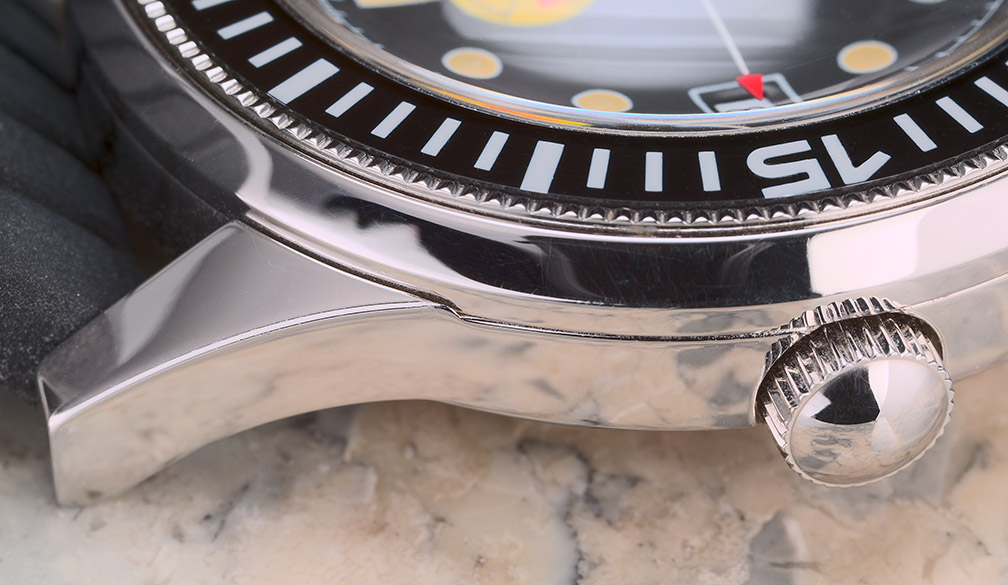 Please check out the rest of my watch Articles and pics:


I hope you enjoyed this!

SteveG
December 28, 2006


All content Copyright asserted 2003, 2004, 2005, 2006, 2007